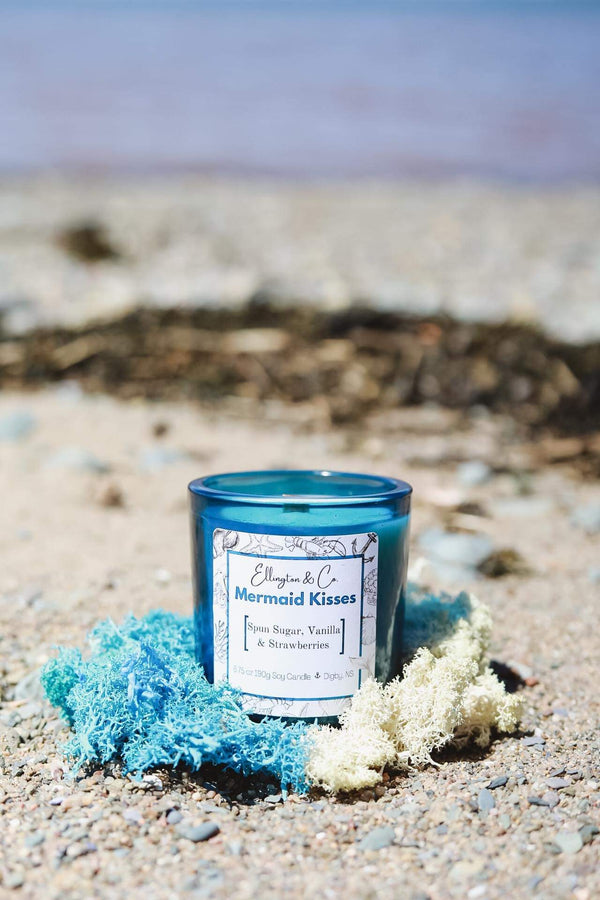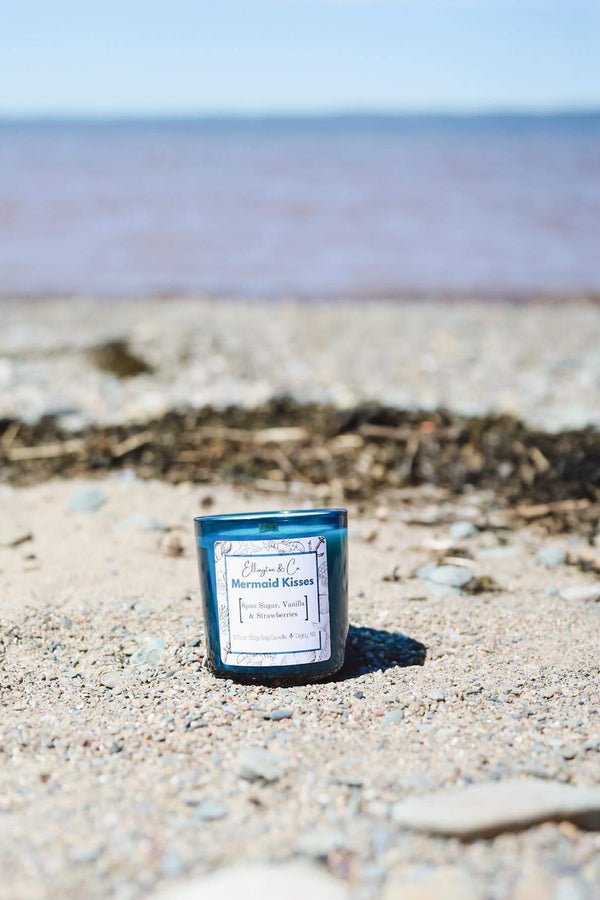 "Mermaid Kisses" candle is created using our custom blended fragrance and is oh so sweet.  It's Mermaid approved!  It reminds us of your go to lip balm from back in the day.
Notes:
Top - Spun Sugar, Raspberries, Strawberries
Middle - Cotton Candy Fluff, Fig Petals, Sweet Orange
Bottom - Grapes, Vanilla, Powdered Musk, Caramel, Red Licorice
This scent is featured in a beautiful thick blue glass jar (no lid).  These vessels are filling with our luxury creamy soy wax and quality phthalate free fragrance oils  We also added a special touch to your Ellington & Co. candle, an upgrade from the traditional cotton which to a more unique and appealing crackling wooden wick!
~ Where luxury meats sustainability!
6.75oz Candle:
35 hour burn time*
Suggested rooms for candle use: bedrooms, laundry rooms, bathrooms, kitchen, living room
*The trick to make your candle last longer and have minimal soot is to trim the wick to 1/4" maximum to 1/8" minimum before every single burn. Also be sure to keep it lit for 3-4 hours or until your candle reaches a full melt pool.  Please be sure to read the warning label on the bottom of your candle and NEVER leave your candle unattended.
Once you've enjoyed the life of your candle please be sure to upcycle your candle jars in some way!  Please see FAQ for some inspiration or we'd love for you to take part in our recycling program where you return them to us in good condition and receive $1 OFF your next purchase.  Please don't forget to recycle and/or re-use any of the packaging you can.
Mermaid Waxmelts
Purchased the waxmelts if this smell last week, and absolutely adore the smell. It's such a sweet smell, so warm and inviting. One piece burns for a couple days, I turn my burner off at night, but all day long it burns. Absolutely recommend this sent. Can not wait to try more scents 😊