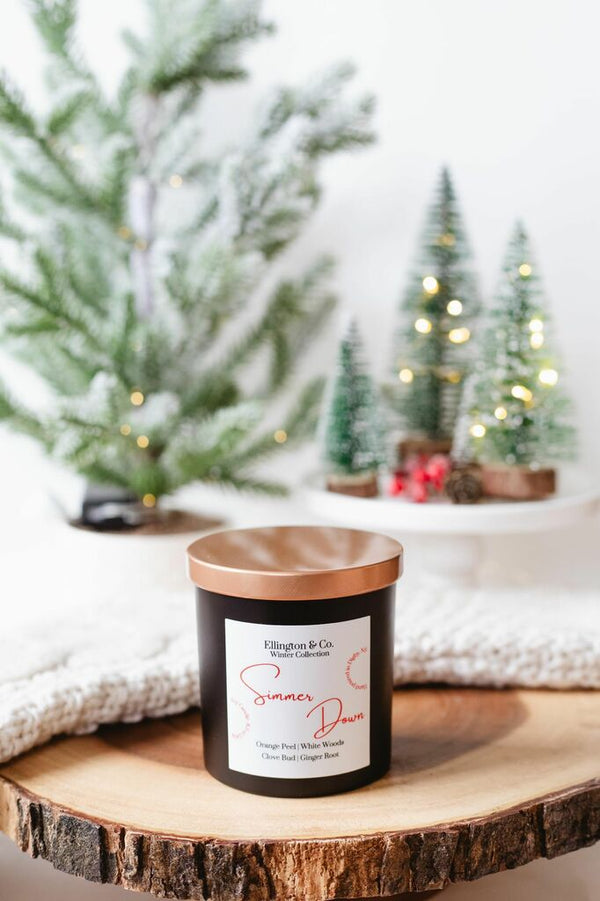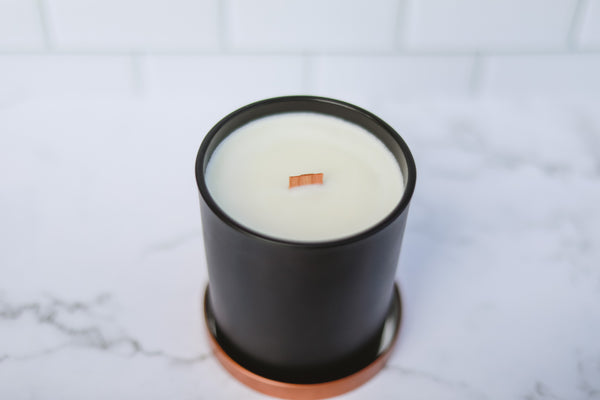 Our Simmer Down is an instantly inviting aroma that encapsulates imagery of an old fashion Christmas as the smell of orange peel, ginger root, and nutmeg entice you from a festive punch bowl, and the Christmas decorations adorned with fir needles, Cinnamon sticks and clove bud welcome you with every breath you take. This luxurious smell is elevated with the notes of white wood, tonka bean, and amber for your enjoyment
         Notes:
         Top - Sweet Orange Peel, Nutmeg, Ginger Root
         Middle - Crushed Fir Needles, Cinnamon Stick, Clove Bud
         Base - White Woods, Tonka Bean, Amber
This scent is featured in our classic matte black glass jars and come with a metal lid in our signature copper color.  The vessels are filled with a beautiful creamy soy wax and quality phthalate free fragrance oils.  We also added a special touch to your Ellington & Co. candle, an upgrade from the traditional cotton wick to a more unique and appealing crackling wooden wick!
~ Where luxury meets sustainability!
8.5 oz Candle:
45+ hours burn time*
3.55" tall, 3" wide
Suggested rooms for candle use: bedrooms, bathroom and living room
*The trick to make your candle last longer and have minimal soot is to trim the wick to 1/4" maximum to 1/8" minimum before every single burn and to keep it lit for 3-4 hours at a time.  Please be sure to read the warning label at the bottom of your candle and NEVER leave your candle unattended.  
Once you've enjoyed the life of your candle please be sure to upcycle your candle jar in some way!  Please see FAQ for some inspiration.  Please don't forget to recycle and/or re-use any of the packing you can.