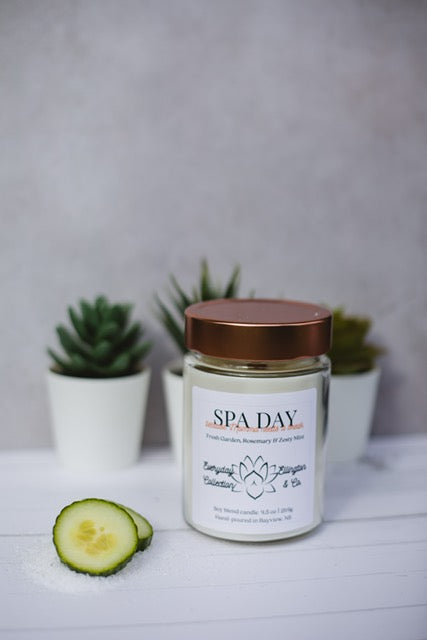 Everyone needs and deserves relaxation in their busy lives.  This is one that you can wind down, close your eyes momentarily (do NOT fall asleep as that would be far too dangerous while your candle is lit) and take in the spa-like aroma.  This fragrance is made up of a refreshing blend of rosemary, fresh garden herbs and zesty mint!  This scent might be a familiar smell from your favourite spa line.

Notes:
Top - Rosemary
Middle - Garden Herbs
Bottom - Mint
Our candles in the Everyday Collection are hand-poured in a classic glass jar and come with a metal lid in our signature copper color.  The vessels are filled with a beautiful creamy soy wax and quality phthalate free fragrance oils.  We also added a special touch to your Ellington & Co. candle, an upgrade from the traditional cotton wick to a more unique and appealing crackling wooden wick!
~ Where luxury meets sustainability!
9 oz Candle:
50+ hours burn time*
4.25" tall, 2.5" wide
Suggested rooms for candle use: bedrooms, bathroom and living room
*The trick to make your candle last longer and have minimal soot is to trim the wick to 1/4" maximum to 1/8" minimum before every single burn and to keep it lit for 3-4 hours at a time.  Please be sure to read the warning label at the bottom of your candle and NEVER leave your candle unattended.  
Once you've enjoyed the life of your candle please be sure to upcycle your candle jar in some way!  Please see FAQ for some inspiration.  Please don't forget to recycle and/or re-use any of the packing you can.  
A must buy if you want to feel like your at a spa!
This candle smells AMAZING. I light this when I am getting ready in the mornings and want to feel calm and take a moment to myself. If you are looking for a candle to light when giving yourself some self care, this one will not disappoint.
Spa Day Candle
Loved the aroma of the Spa Day Candle.